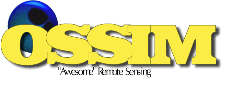 Ossim Quickstart
Open Source Software Image Map (OOSIM) is a high performance engine for remote sensing, image processing, geographical information system and photogrammetry.
This Quick Start describes how to:
View raster images with imagelinker
Run ossimPlanet
Imagelinker
Start Imagelinker from its icon from the directory "Spatial Tools" on the desktop

Select the project file, using File ‣ Open Project ‣ /home/user/ossim/landsatrgb.prj

Go to the menu bar ‣ window ‣ tile

Select an image window ‣ select the pan icon ‣ click on the image ‣ press the button "propagate"

Verify you see a 3 gray satelite images.
For the full tutorial see this blog article.
OssimPlanet
Start OssimPlanet from its icon from the directory "Desktop-GIS" on the desktop
Select File ‣ Open Image ‣ /home/user/data/raster/band1.tiff
Go to menu ‣ Open kml ‣ /home/user/data/raster/*.kml
Go on the legend tree ‣ Image Layers ‣ open the trees ‣ double-click on the band1 image,
you should see the scene zoom to the image's location
Note: to turn off the daylight auto-shading, un-check Preferences ‣ Environment ‣ Enable Ephemeris