Getting Started
Geomajas is a development framework for creating GIS web applications. Therefore, what you see on this Live DVD is an example application built using the Geomajas technology.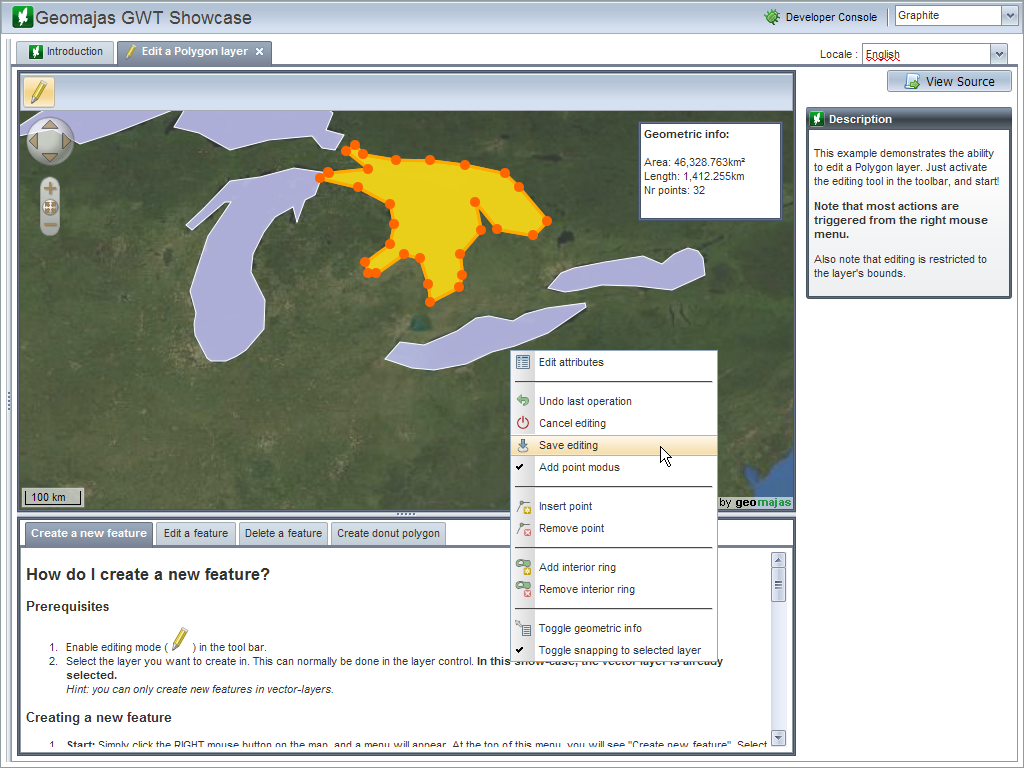 Go to the "Browser Clients" folder on the desktop.
Click on the desktop icon "Start Geomajas". This will launch the FireFox browser which will navigate to the correct location automatically.
On the left side you will see a list of short examples of what functionalities Geomajas supports out-of-the-box. Clicking on these will open the associated examples.
For each example, you will find a short description/explanation on the right side. It is recommended to read these as they will clarify each example.
Creating new Geomajas applications
In order to create a new Geomajas application, you will need Maven installed:
$ sudo apt-get install maven2
Maven is a tool for building and managing any Java based project. Geomajas has defined a Maven archetype, that sets up a default application in a single command:
$ mvn archetype:generate -DarchetypeCatalog=http://files.geomajas.org/archetype-catalog.xml
Congratulations, you have now successfully created a new Geomajas application. You now have the choice to run it immediately, or open it in a development environment to start working on it. To run the application immediately, go into the application folder (where the pom.xml is), and execute the following Maven command:
This will compile the application, and run it in a jetty container. You can than reach the application at the following url: http://localhost:8080/
See the Geomajas getting started documentation guide for more details on creating Geomajas applications, or setting up a development environment.
For general information see the Geomajas homepage.