QGIS Server Quickstart
QGIS Server provides a web map service (WMS) based on libraries from the Quantum GIS (QGIS) desktop application.
This Quick Start describes how to:
update an existing QGIS project and render it with QGIS Server
create a new QGIS project and open the WMS directly in a browser
Documentation:
Quick start for Server Installation on Debian/Ubuntu:
apt-get install qgis-mapserver libapache2-mod-fcgid
QGIS Web Client:
Start GeoExt viewer
OSGeo-Live contains an example of web map viewer based on the GeoExt Javascript framework and using QGIS Server for rendering the map.
You should see a browser window with a web map viewer showing a world map.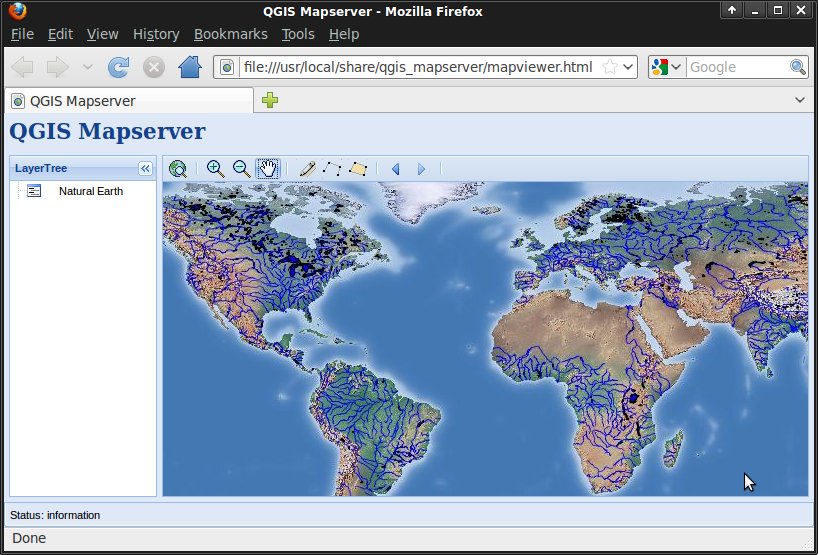 Alternatively, you can access the application using a browser through http://localhost/qgis_server
We will now change the map styling using QGIS.
Edit QGIS project
Click .
Choose from the menu bar.
Select QGIS-NaturalEarth-Example.qgs and press Open.

You should see the same world map rendered by QGIS. We will now change river styling and look at the result in the web map viewer.

Double click ne_10m_rivers_lake_centerlines in the Layers tree.
Change the color in Outline Options to a different blue tone.
Press OK.

Rivers are now rendered in a new color.

Save the project with .
Reopen the web browser
Zoom in

You should now see rivers rendered in the same new color.
Create a new QGIS project
Reopen QGIS
Choose .
Click .
Browse to dataset /home/user/data/natural_earth2/ne_10m_admin_0_countries.shp.
Press Open.

You should see all world countries.

Save the project with .
Use file name /home/user/world.qgs and press Save.
Open the WMS URL.

You should see all world countries, this time rendered by QGIS Server.