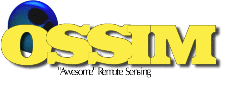 Ossim Quickstart
Open Source Software Image Map (OOSIM) is a high performance engine for remote sensing, image processing, geographical information system and photogrammetry.
This Quick Start describes how to:
View raster images with imagelinker
Run ossimPlanet
Imagelinker
Start Imagelinker from its icon from the directory "Spatial Tools" on the desktop

Select the project file, using

Go to the

Select an

Verify you see a 3 gray satelite images.
For the full tutorial see this blog article.
OssimPlanet
Start OssimPlanet from its icon from the directory "Desktop-GIS" on the desktop
Select
Go on the , you should see the scene zoom to the image's location
Navigate the scene.
Note
To turn off the daylight auto-shading, un-check